Christmas Craft Fair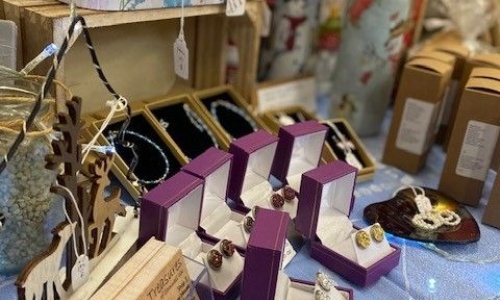 On Sunday 27 November a Christmas Craft Fair was held organised by The Friends of Looe Parent Teacher Association.
It was a fabulous, roaring success with the cream of local crafts and makers selling their handmade items. A steady stream of attendees, many of which were students and parents, plus a special guest appearance from Father Christmas, ensured the day was full of festive spirit.
Lucy Price in Year 10 ran a stall selling her beautifully handmade textiles pieces. Her stall was really popular, and she sold most of her wares plus took orders for personalised pieces. Lucy was really happy, and it's given her the confidence to do more craft fairs and take her hobby further.
"What a lovely community event and it's really nice to see that Looe has some quality crafters"- Mrs Saberton.
"My children really loved writing a letter to Father Christmas and then meeting him" - Mrs Turon.
The PTA chocolate tombola was really popular, and we wish to thank Morrisons Liskeard, Rolys of Looe, Spar and Co Op for their donations. The free children letter to Father Christmas was a lovely addition and there will be a number of illustrated letters whizzing their way to the North Pole!
A huge thank you to all who attended especially all the fantastic stallholders.
If you are interested in helping to organise future events and being a part of the PTA please contact Miss Welch at the school.