GCSE Art students trip to St Ives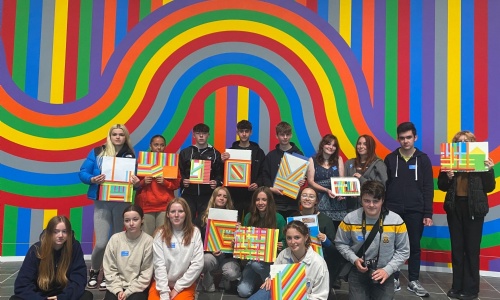 On Friday 30 September, GCSE Art students from Years 10 and 11 had a fabulous art trip to St Ives. They visited the Tate, where staff were very complimentary about their conduct and focus.
Students all produced their own creative interpretation of Sol LeWitts 'wall drawing' before moving onto the Society of Artist Gallery. The highlight of the trip was actually meeting the artist who was showcasing at the Crypt Gallery, Paul Wadworth. He was kind enough to discuss his work and took the time to talk to the students about their own art experience.
The group carried out direct observational studies of the seafront whilst sat in the hub restaurant, where they also had a delicious meal.
All the students were a fantastic credit to the school. Despite the appalling weather, they remained positive, friendly and motivated.
Both Miss Wood and Miss Welch are very proud and looking forward to seeing how they develop their studies.