Music
Looe Community Academy has a thriving Arts Faculty and was awarded Performing Arts Status in 2004. We believe that performance and creativity can be a catalyst for learning and that the arts can offer a unique opportunity to unlock the potential of every individual. We have held Artsmark Gold status since its introduction in 2000.
Music at Looe Community Academy is accessible and all-inclusive across our wide-ranging curriculum that explores everything from the music of Africa, to the jingles and soundtracks of our film industry. From the sounds of Japan, to the shredding guitar riffs of Hendrix!
Through a wide range of units, all students will have the experience of learning how to play a range of instruments that includes, but is not limited to: guitar, bass guitar, drums, keyboard, voice, ukulele, and other classical instruments throughout their time at Looe Community Academy. Students will also have the opportunity to work on professional recording and sequencing software to create their own digital music.
The music department is well-resourced with a suite of iMacs, an array of different instruments ranging from classical to contemporary, a digital recording studio, and four rehearsal spaces that provide all students the chance to develop their musicianship with freedom, flexibility and opportunity when learning.
A variety of peripatetic instrumental lessons are also offered by Looe Community Academy to all students in a range of instruments and across all ability levels with the opportunity to join the array of extra-curricular activities that we offer.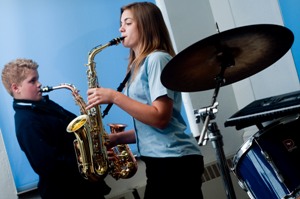 Key Stage 3
Music at Key Stage 3 provides the opportunity for all learners to develop their practical skills (both individually and in groups) on an array of instruments, and also to refine their skills in appraisal and analysis of music from different cultures, genres and mediums. All students in Key Stage 3 will learn a variety of instruments and music theory through a diverse programme of study with the emphasis being on practical music-making. A non-exhaustive and fluid list of the units of study students will explore during Key Stage 3 can be found below:
Year 7
Going Instrumental (Exploring Timbre and Instruments)
Find Your Voice (Exploring Vocal Techniques and Beatboxing)
Rhythm & Pulse (Exploring Rhythm and Note Values)
Soundscapes (Exploring Connections Between Music & Art)
Music of the Orient (Exploring Notation and the Pentatonic Scale)
Magic Four Chords (Exploring Popular Structures and Textures)
Year 8
The Music of Africa (Exploring Polyrhythms and Ensemble)
Adverts (Exploring Jingles and The Media)
Lights, Camera, Music! (Exploring Video Game and Film Soundtracks & Diegesis)
The Blues (Exploring Culture and Genre)
Little By Little (Exploring Western Classical Music and Variations)
Year 9
Recycled Music (Exploring Remixes and Covers)
Musical Futures (Exploring Instrument Technique and Group Work)
Songwriting (Exploring Composition and Improvisation)
Rock 'n' Roll (Exploring Chords and Bass Lines)
Key Stage 4
Looe Community Academy offers students the option to take their music education even further in Key Stage 4 by giving students the chance to explore, compose, perform, sequence, arrange, analyse and appraise music from a wide range of genres and cultures. Students are given the opportunity to put on performances, create collaborations with other musicians, refine their knowledge of music theory, and explore the musical world of other nations.
Although additional instrumental lessons are highly recommended to students taking a Music course in Key Stage 4 in order to further develop their musicianship, students that choose to take Music in Key Stage 4 will have had the opportunity to refine the knowledge and skills necessary for the courses offered at Key Stage 4 through their lessons during Year 7, Year 8, and Year 9.
Both GCSE Music and BTEC Music Level 2 are offered at Looe Community Academy for students to choose from; both hold equal weighting as a qualification. Both courses provide exciting opportunities for students to develop themselves as musicians and learners
– GCSE Music –
Exam Board – OCR
Course – 1-year
What will you be learning?
Music is all around us. It influences our moods and emotions and stimulates our lives. Following a GCSE Music course will develop your understanding of how music is created through composition, performance and appraisal.
Course overview
| | | |
| --- | --- | --- |
| Integrated Portfolio | Performance on the learner's chosen instrument. | 30% of total GCSE |
| Practical Component | Ensemble performance. | 30% of total GCSE |
| Listening Exam | A written paper, with CD. | 40% of total GCSE |
Areas of Study
Area of Study 1 – My Music

A study of their own instrument or voice through performance and research.

Area of Study 2 – The Concerto Through Time

A study of the Concerto and orchestras through history and how it influenced music.

Area of Study 3 – Rhythms of the World

A study of the traditional rhythms from India, Africa, South America and the Middle East.

Area of Study 4 – Film Music

A study of music for films, video games and other modern media that uses music.

Area of Study 5 – Conventions of Pop

A study of a range of popular music from the 1950s to the present day.
In the course you will learn how to compose, perform and develop skills in appraising music throughout these five areas. Music GCSE is a very practical subject and you will be able to use a variety of instruments and modern technology to perform and compose.
What is the assessment?
60% Coursework
You will submit a performance on your chosen instrument, compose a piece of music from a brief set by yourself whilst exploring the skills and capabilities of your instrument and performance playing. You will also create an ensemble performance with others and compose a piece of music set to a brief linked to the Areas of Study. The ensemble performance is free and can be on any instrument and any genre.
40% Listening Paper (approximately 60 minutes long)
There will be a mixture of multiple choice, structured and unstructured questions, based on music covered during the course.
What happens when you have finished the course?
This course will act as a foundation for A level, BTEC Level 3 and other music courses at further education. It is also an excellent base in which to learn skills for continuing the enjoyment of playing music throughout life.
---
– BTEC Music –
Exam Board – Pearson Edexcel
Course – 1-year
What will you be learning?
The course covers four units:
The Music Industry
Managing a Music Product
Introducing Music Performance
Introducing Music Composition
The majority of the course is practical and students will be expected to develop their technical skills whilst acquiring new performance skills. As part of the course students will work and perform as a soloist, as part of a musical ensemble, produce a musical recording, and learn how musicians use computer systems. During the course there will be the opportunity to attend live local performances and attend professional workshops. Students will play in school and community performances as part of their course.
What is the assessment?
There is only one exam, and this will be half way through the course. This will be based on Unit 1 – the Music Industry (25%). The rest of the course is internally assessed throughout (75%).
Each unit or partial unit is marked to Level 2 Pass, Merit, Distinction or Level 1 Pass. All levels are collated to form overall grades. A sample is then moderated by an external examiner. Teachers will discuss with each student the reasons why they have been awarded the mark they have. If after discussion a student is unhappy with their mark an appeals process can be implemented, details of which can be found on the school's examination notice board. Unit grades combine to form an overall grade; students can be awarded Level 2 Distinction*, Distinction, Merit, Pass or a Level 1 Pass.
What happens when you have finished?
BTEC Music gives students the opportunity to develop an awareness of the vastness of this area and a real insight into which careers are available should they wish to take their music further. This course can act as a stepping stone to further education, BTEC level 3 and music degree courses, but it also gives students the chance to learn in an aesthetic manner developing co-operative skills, along with confidence and building of self-esteem.